Concept
Living on 40 feet.
We combine attractive living spaces that are built with a flexible and sustainable construction system. We upcycle used 40 foot shipping containers into high quality accommodation units.
Our team of 15 architects, engineers and consultants have developed complete solutions for hotels, hostels and home-like student housing. Currently we are working on a concept for solid and immediately available refugee accommodation, which later can be easily and quickly transformed into student accommodation or used as a hotel.
40 Feet develops used shipping containers into sustainable living systems, and through serial production, transforms them into high quality, transportable and multifunctional living modules with character. Lined up and stacked like Lego, the flexibility, scalability and with complete reversible capabilities, these buildings offer living spaces at a very high-end design and comfort level – short or long term – within a very short construction time. The complete production process takes place in Germany.
40 Feet concept strengths:
• Very short construction time through serial production
• Planning reliability regarding cost and timeframe
• Excellent eco balance almost equal to wooden constructions and four times better than concrete structures
• Highly energy efficient
• Consistent high quality controlled construction in an optimised working environment
• Mobile, flexible, reversible and scalable through intelligent plug & play concept
• Sustainable through the complete utilisation of used shipping containers
• Secure investment through the flexibility, that our structures provide
• Made in Germany
Wir stapeln hoch, statt tief
The 40 Feet plug & play construction method of building, allows for flexible design, scalable concepts and reversible building solutions. Stockpiling, conversion in continuous business activity, partial or complete deconstruction or relocation of complete buildings are all options we offer. Through serial prefabrication, 40 Feet can assure very short construction times and to a continuous and consistent high quality standard. All modules are made in Germany.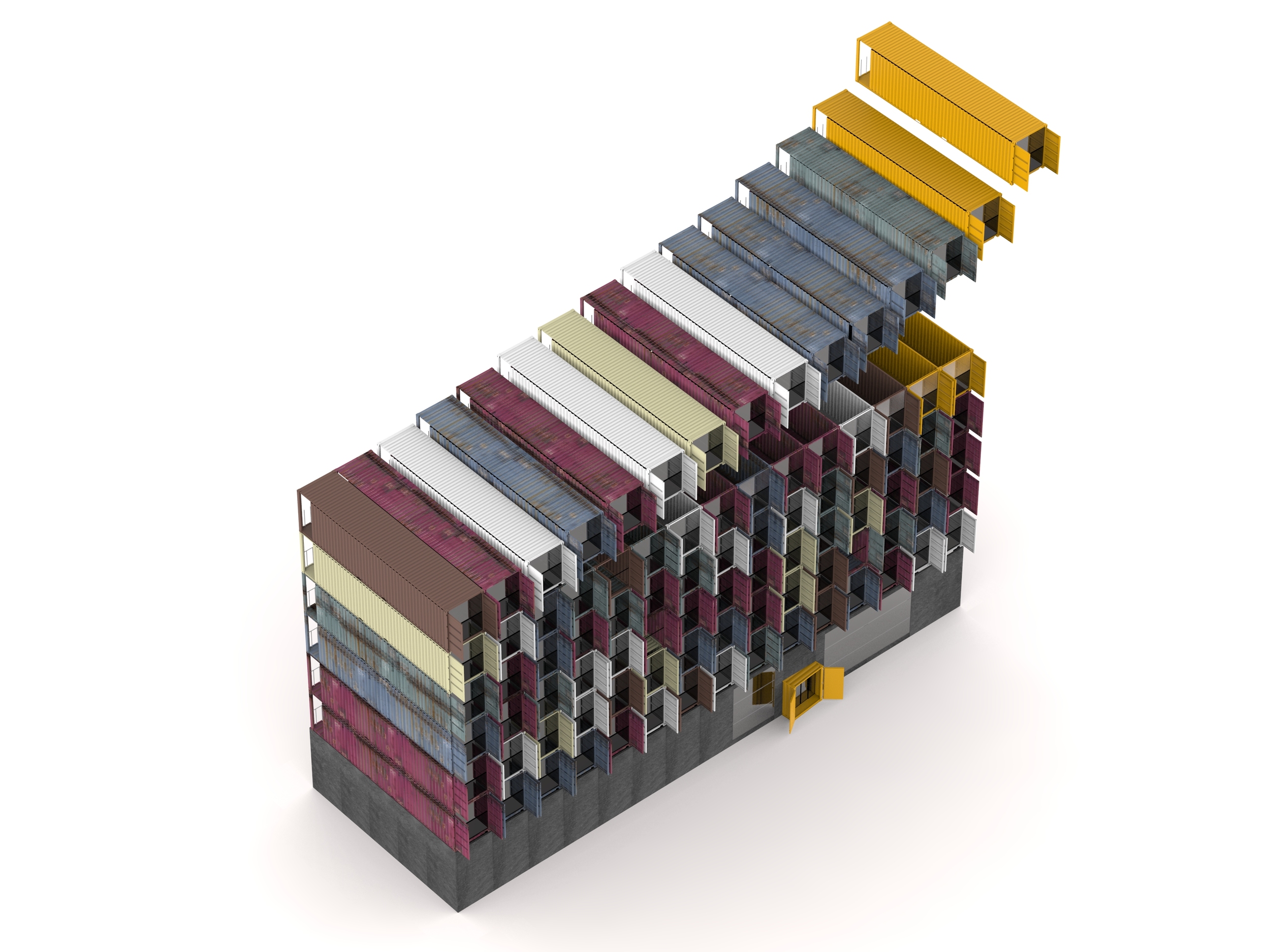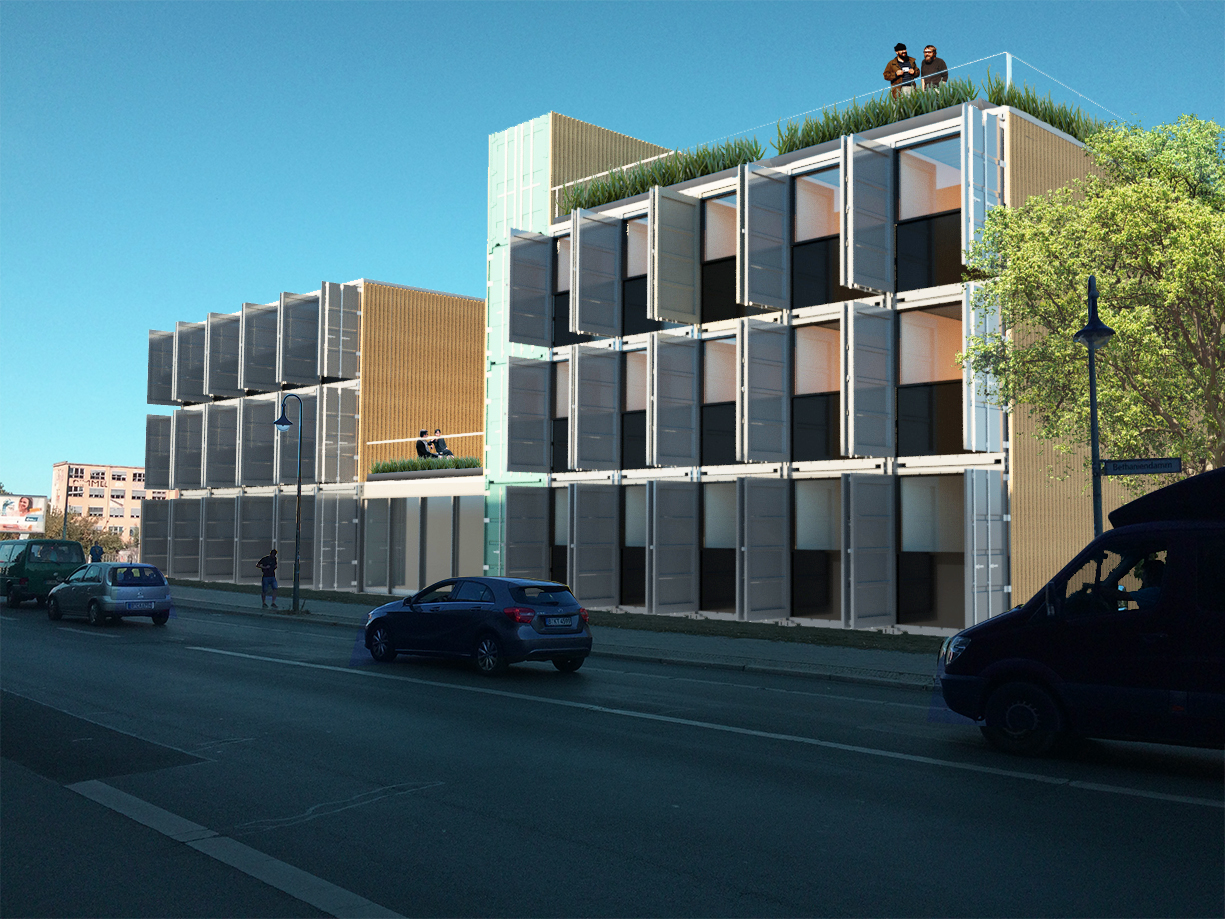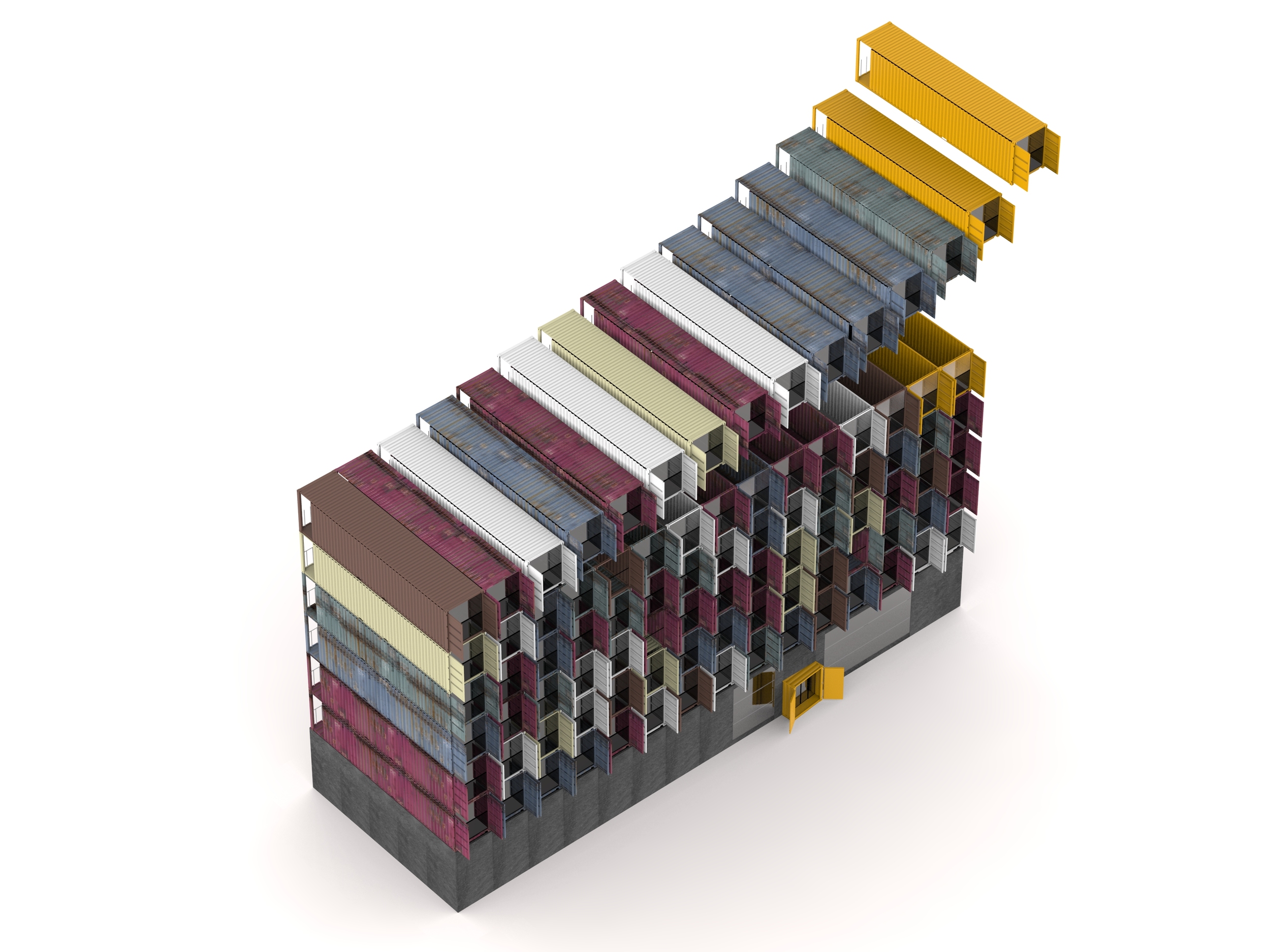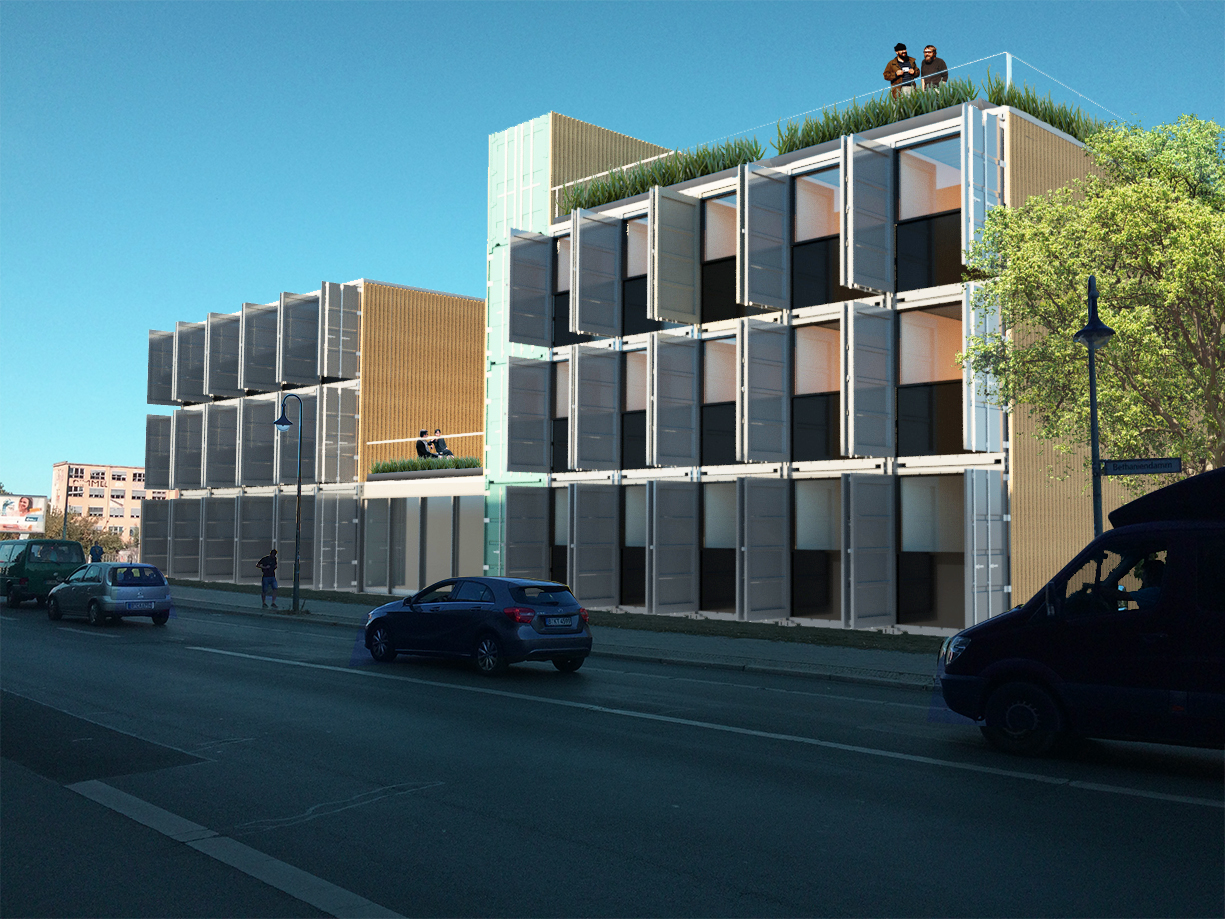 Design
Containers with character.
The exterior of the modules keep their industrial charm. However, once the guest and resident enter the living space, all signs of being inside a used 40 foot shipping container disappear. With elaborate and appealing design, an intelligent room layout and pleasant indoor climate, makes every module a comfort zone and rest area. Another elementary and fundamental advantage: The closed statical system of the shipping container reduces noise transmission to a minimum, meaning neighbours cannot be disturbed and guests and residents have complete privacy.
Solutions
Detailed solutions for hotels, hostels and student housing are available. The concepts are characterised by smart room layouts, matching the guests need – for a few days or even years. Each concept includes designs for lobby, common area and barrier-free living space.
PROTOTYPE
Why not come and see for yourself? Everyone can experience first hand the superior quality of our 40 foot modules at our fully equipped and fully functioning prototype here in Berlin. We will be happy to demonstrate the advantages of our modules with you in person - "Aha!" effect included. Just call or email for an appointment. CONTACT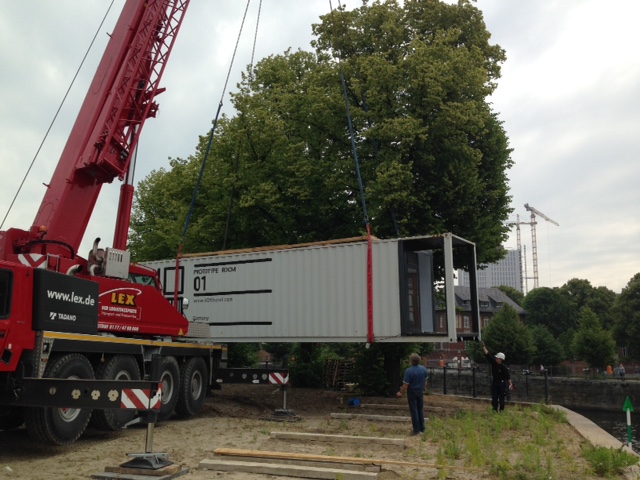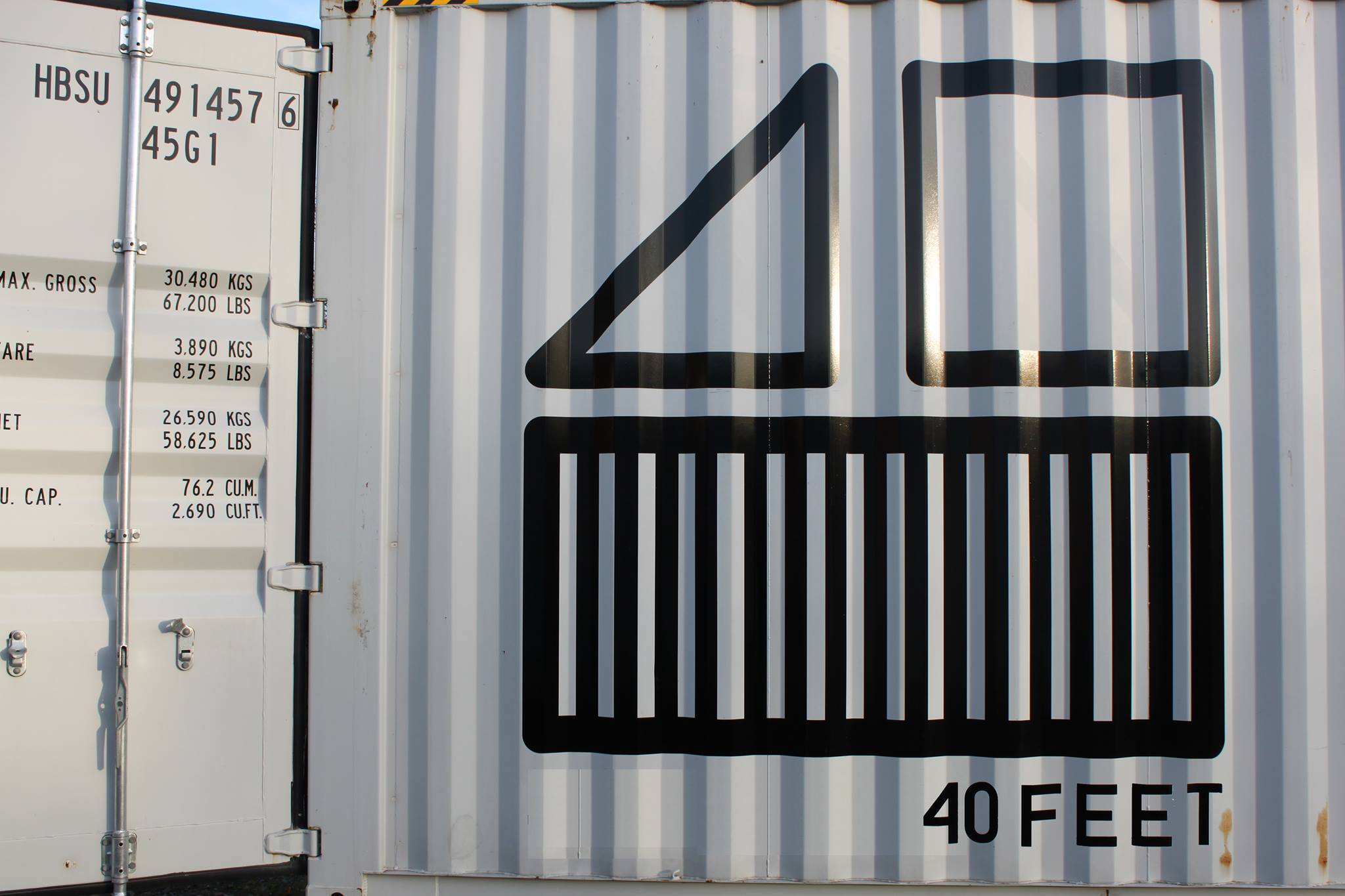 Our company
At 40 Feet, the fascination of container architecture and the striving for more sustainability in the real estate business is what characterises us. In an intensive exchange with architects, designers and consultants we developed the idea, to transform used shipping containers into cozy, multifunctional living spaces made in serial production and thus to save resources. The 40 Feet vision was born to combine a flexible modular construction concept with great design and sustainable approach. 40 Feet Development GmbH was established in December 2013.
We see ourselves as a "holistic" company. 40 Feet Construction GmbH as a subsidiary, will play a leading role in the construction process. 40 Feet Hostel GmbH will operate hostels together with a strong external partner, while 40 Feet Development GmbH takes care of the complete project management and financial engineering.
40 Feet is our passion. That's why we care for every detail.
Philipp Zimmermann
Managing Director
Sandra Zimmermann
Project Manager
40 feet development GmbH
Köpenicker Straße 148
10997 Berlin
Tel +49 (0)30 275 93 645
Fax +49 (0)30 275 936 80
Mail info@40feet.net